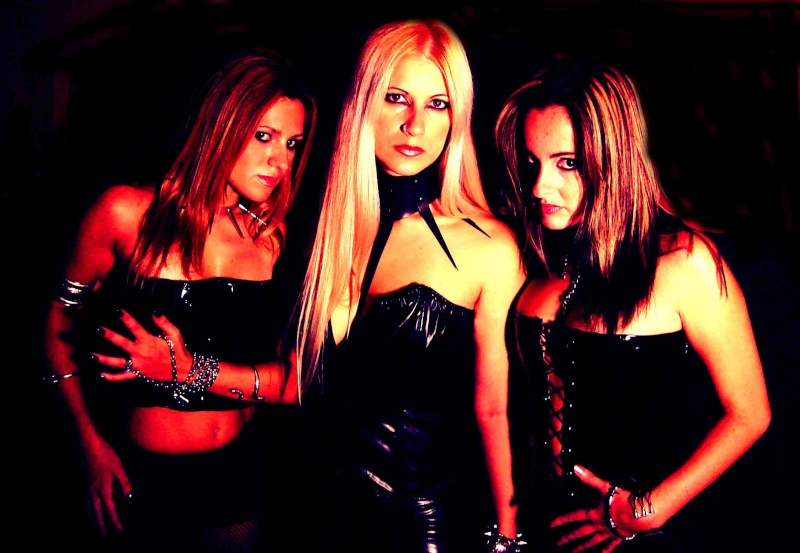 Astarte est l'un des premiers groupes de black metal à être composé « uniquement de filles ». Si j'ai mis des guillemets c'est que le groupe a quasiment fait toujours appel à un membre masculin pour se charger des parties de batterie et de clavier.
Le groupe se forme en 1995 sous le nom de LLOTH et comporte en son sein Kinthia (vocaux black/ guitare), Nemesis (guitare) et Tristessa (basse et guitare acoustique).
En 1997, elles enregistrent leur première démo Dancing in the Dark Lakes of Evil. A cette époque leur son est assez crade, rapide, agressif, mystique et pourrait très bien passer pour du black metal typiquement nordique alors que les demoiselles sont grecques. Durant la même année, elles choisissent de renommer le groupe Astarte en l'honneur de la déesse phénicienne de la fertilité et de la guerre.
En 1998, elles enregistrent leur premier album intitulé Doomed Dark Years ce qui leur permet de commencer à se faire un nom dans le milieu du metal underground.
En 2000 sort leur deuxième album Rise from Within qui a un son beaucoup plus propre et mélodieux tout en gardant une certaine agressivité. Elles changent aussi leur image en cessant par exemple d'arborer le maquillage « panda » qu'utilisent beaucoup de groupes de black metal.
Elles enregistrent leur troisième album Quod Superius Sicut Inferius en 2002. Cet album est à mon humble avis le meilleur de leur carrière. On a toujours cette approche agressivité/son mélodieux mais avec quelques éléments nouveaux comme la présence de duos avec des vocalistes masculins, l'apparition de chant clair qui rend l'écoute plus diverse ou encore l'ajout de sons plus électroniques comme sur l'instrumental Sickness.
L'année suivante, elles enregistrent Sorrows of the Moon qui apparaît sur Tribute to Celtic Frost et recrutent Tania (batterie) pour l'occasion. Hélas, suite à l'expiration de leur contrat avec le label Black Lotus, les miss se disputent et Kinthia et Nemesis quittent le groupe. On notera que Kinthia assurera quelques parties vocales sur l'album A Quatrain for the Damned du groupe de gothic metal grec Shadows Dance avant de ne plus faire entendre parler d'elle (sur le plan musical tout du moins)
Cependant en 2004 Tristessa recrute Hybris (guitare) et Katharsis (claviers) tout en se chargeant à présent des parties vocales ainsi que des lead guitars. Ainsi sort leur quatrième album Sirens sous le label Avantgarde. Cet album comporte des éléments issus du death metal et voit l'apparition d'invités célèbres tels que Sakis de Rotting Christ, Shagrath de Dimmu Borgir et un invité célèbre mais non moins talentueux Nicolas SIC Maiis d'Insected (groupe de death metal dans lequel joue également Tristessa).
Ce n'est qu'en 2007 que sort Demonized et on a encore droit à un petit changement de line-up. Tristessa se concentre désormais uniquement sur les parties vocales, Hybris abandonne la guitare et devient parolière, Ice d'Insected assure la batterie, Lycon les guitares et la basse et enfin de la nouvelle, Derketa, qui assurera les parties de clavier. Sur cet album pas vraiment de nouveautés par rapport à Sirens si ce n'est que Tristessa se met aussi à utiliser un chant clair assez agressif. De nouveaux invités sont présents sur ce nouvel opus avec Attila Csihar de Mayhem, Henri T.S.K Sattler de God Dethroned, Nicolas SIC Maiis de Lloth/Insected et enfin la magnifique Angela Gossow d'Arch Enemy.
Line-up actuel : Tristessa (vocaux black/death / chant clair) , Hybris (paroles) , Derketa (claviers) , Lycon (guitares/basse de session) , Ice (batterie de session)
Discographie
Dancing in the Dark Lakes of Evil (LLOTH demo) 1997
1. Intro
2. The Offering…
3. Empress of the Shadow Land
4. …In the Weep of the Ocean
5. Mournful
6. Satisfaction of the Dead
7. Reaching the Palace
8. Outro
Doomed Dark Years 1998
1. Passage to Eternity (Prelude)
2. Voyage to Eternal Life
3. Thorns of Charon (pt1)-Astarte's Call
4. Doomed Dark Years
5. Thorns of Charon (pt.2)-Emerge from Hades
6. Thorns of Charon(pt.3)- Pathway to Unlight
7. Empress of The Shadow Land
8. The Rise of Metropolis
Rise from Within 2000
1. Furious Animosity (Instrumental)
2. Rise from Within I (Mystical Provocation)
3. Rise from Within II (Selenium Erring)
4. Naked Hands
5. Genesis
6. Liquid Myth
7. Non Existent Equilibrium
8. Rise from Within III
9. Risen from Within
Quod Superius Sicut Inferius 2002
1. Reign Unforld
2. Inflamed Paradox
3. Oblivious Darkness
4. Deep Down the cosmos
5. Astarte
6. Incarnate Legend of the Mummy Queen
7. In Velvet Slumber
8. Sickness
9. Quod Superius Sicut Inferius
10. Crossing the Wounded Mirror of Death
Sirens 2004
1. Dark Infected Circles (Outbreak)
2. Black Mighty Gods
3. Lloth
4. Bitterness of Mortality (MecomaN) (feat. Nicolas SIC Maiis)
5. Deviate
6. Oceanus Procellarum (Liquid Tomb) (feat. Sakis)
7. The Ring (of Sorrow) (feat. Shagrath)
8. Twist, Nail, Torture
9. Sirens
10. Underwater Persephone
Demonized 2007
1.Mutter Astarte
2.God I Hate Them All
3.Lost
4.Whispers of Chaos
5.Demonized
6.Lycon (feat. Attila Csihar)
7.Queen of the Damned (feat. Henri T.S.K Sattler)
8.Heart of Flames (Burn)
9.God Among Men
10.Everlast
11.Black at Heart (feat. Angela Gossow)
12.Black Star
13.Princess of the Dawn (Accept cover)
14.Everlast II (Phoenix Rising)
Site officiel : http://www.astarteband.com
Myspace : http://www.myspace.com/astartetristessa